1 Pair 925 Silver Sterling Stud Earrings Moon and Star Stud Earrings Jewelry UK
Comes with free velvet gift bag worth £1.99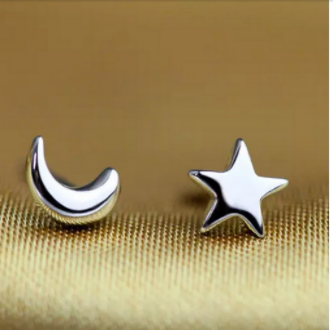 1 pair of Brand New Star and Moon Earrings, fast UK dispatch, Cheapest om eBay, approx 5mm width

100% Genuine Products: We guarantee all the products we sell are 100% genuine products and brand new unless noted otherwise.

Detailed Descriptions: We take time when listing our products and provide detailed product descriptions in order to take the guesswork out of your shopping.

Packaging Excellence: We take great care in packaging your order to prevent damage during shipments so you can enjoy your order the moment you open your package.
100% Secure Payment: PayPal is the fastest, easiest and most secure method of payment online. Paypal works together with Visa & MasterCard offering instant secure payments.
Excellent Customer Service: Customer service is very important to us. While nobody can be completely mistake free, we will always make it our business to make sure you are completely satisfied.
SHIPPING INFORMATION
* Items under 1kg are shipped via Royal Mail.
* Items above 1kg are shipped via DHL.
* Items purchased above 1kg will be provided with a tracking number.
* Shipping prices are priced reasonably and are non-negotiable.
* Orders are normally dispatched next day.

SHIPPING TIMES
* 1 - 2 business day for order processing.
* 1 - 3 business days for Northern Ireland & UK shipments.
* 1 - 7 business days for International shipments.

For additional information on shipping, please don't hesitate to contact us.
WE ACCEPT THE FOLLOWING PAYMENT METHODS
* PayPal
* Bank Transfer
* Postal Orders

For information on sending Bank Transfer & Postal Order payments please contact us.
RETURNS INFORMATION
  we will always accept return as long as the items have not been used in accordance with the distance selling act

  Warranty will not be valid if the defect was caused by customers abuse, negligence, or mishandling.

  For additional information on returns & warranty, please don't hesitate to contact us.
EBAY FREQUENTLY ASKED QUESTIONS

Q. How can I place an international order & receive a shipping quote?
Please contact us with the eBay auction code and your delivery address.

Q. What payment methods do you accept for international orders?
We accept PayPal payments only for International Orders.

Q. My package was damaged in transit, who do I contact?
We take great care in packaging your order, however damage may occur occasionally while in transit. Please contact us and notify the shipping company immediately.